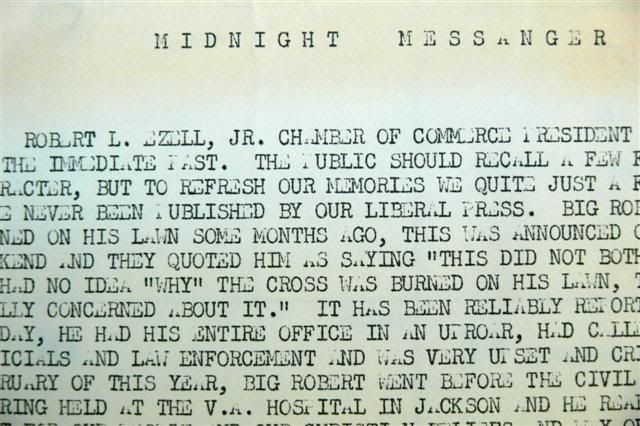 Photo:
My brothers and I had an early morning, neighborhood paper route in the mid-60's. Occasionally we would see mimeographed flyers thrown out overnight by the KKK and usually we would pick up a few to take home and show our parents. When this flyer came out about our dad, we came home with over 50 flyers, picking up all that we could find along the route.
Post:
A few notes about the flyer:
-----There's a reference to a letter written by my dad to James Silver (Silver was teaching at Notre Dame at the time). That letter was intercepted somewhere in the Mississippi postal system, either because someone saw it was coming from my dad or because it was going to James Silver or both. My family later took a weekend vacation trip to Destin, Florida with the primary purpose being to mail a second letter to James Silver that would not be intercepted.
-----I have a copy of the nine page letter sent to James Silver and I'll post that at a future date along with a prediction from James Silver that unfortunately has proven to be true. I also have a copy of what Daddy said at the Senate Sub-Committee hearing and I'll get that posted in the future.
-----I don't think we ever saw the "Scoop Sheet" referred to in this flyer. I'd love to know what they wrote about "Big Robert" in that one. I do have another flyer that is more hateful than the one pictured above and listed below and I'll try to get to it next week.
-----And finally, I copied the flyer as it was written, with all capitals and long rambling sentences. While they didn't get all of their facts exactly right, their last sentence is 100% accurate. Here is a copy of the "Midnight Messanger" put out in mid or late 1965 (The Senate hearing was in February, 1965 and the cross burning was in May, 1965--there's a funny family story that goes along with the cross burning and I'll get to it soon):
MIDNIGHT MESSANGER
ROBERT L. EZELL, JR. CHAMBER OF COMMERCE PRESIDENT HAS BEEN VERY QUIET IN THE IMMEDIATE PAST. THE PUBLIC SHOULD RECALL A FEW FACTS ABOUT THIS CHARACTER, BUT TO REFRESH OUR MEMORIES WE QUITE JUST A FEW, MOST OF WHICH HAVE NEVER BEEN PUBLISHED BY OUR LIBERAL PRESS. BIG ROBERT HAD A CROSS BURNED ON HIS LAWN SOME MONTHS AGO, THIS WAS ANNOUNCED ON RADIO, ON THAT WEEKEND AND THEY QUOTED HIM AS SAYING "THIS DID NOT BOTHER HIM AT ALL, THAT HE HAD NO IDEA "WHY" THE CROSS WAS BURNED ON HIS LAWN, THAT HE WAS NOT REALLY CONCERNED ABOUT IT." IT HAS BEEN RELIABLY REPORTED THAT THE FOLLOWING MONDAY, HE HAD HIS ENTIRE OFFICE IN AN UPROAR, HAD CALLED IN THE LOCAL OFFICIALS AND LAW ENFORCEMENT AND WAS VERY UPSET AND CRITICAL. BACK IN FEBRUARY OF THIS YEAR, BIG ROBERT WENT BEFORE THE CIVIL RIGHTS COMMISSION HEARING HELD AT THE V.A. HOSPITAL IN JACKSON AND HE REALLY GAVE A GOOD REPORT FOR OUR PEOPLE AND OUR CHRISTIAN BELIEFS AND WAY OF LIFE, JUST ABOUT LIKE OUR REPRESENTATIVES AT THE DEMOCRATIC CONVENTION LAST YEAR, WITH THE EXCEPTION THAT HE WAS MOST PRECISE IN WHAT HE SAID AND THAT WAS "MISSISSIPPI AND ALL HER CUSTOMS HAVE BEEN WRONG, PLEASE GIVE US TIME, WE ADMIT WE HAVE BEEN COMPLETELY WRONG AND WE WILL PROVE TO YOU WE WILL COMPLETELY CHANGE. ABOUT THIS SAME TIME BIG ROBERT WROTE PROFESSOR JAMES SILVER OF OLE MISS (PROMOTER OF L.B.J.'S GREAT SOCIETY AND FAMED FOR HIS BOOK "MISSISSIPPI, THE CLOSED SOCIETY") A NINE PAGE LETTER. WE ARE SURE THAT BIG ROBERT WILL NOT DIVULGE TO ANYONE WHAT HE REPORTED TO THE PROF., BUT IT SHOULD NOT BE LONG BEFORE THE PROF. INCLUDES HIM IN PRAISE AS HE SAID IN HIS BOOK "IN MORE THAN A QUARTER OF A CENTURY AT THE UNIVERSITY IT HAS BEEN MY GOOD FORTUNE TO KNOW SOME TRULY REMARKABLE NATIVE MISSISSIPPIANS, AMONG THEM DAVID T. COHN, ROBT. J. FARLEY, JAMES P. COLEMAN, JAMES HOWARD MERIDITH, AARON HENRY, AND WILLIAM FAULKNER. THESE SIX MEN, BEYOND ALL OTHERS, HAVE INFLUENCED MY THOUGHT AND ACTION."
THERE WAS A SCOOP SHEET PUT OUT OVER ENTIRE CITY OF JACKSON SOME WEEKS AGO ON "BIG ROBERT" AND TO REFRESH YOU MEMORY, WE QUOTE A PART OF IT.
WE DO NOT WISH TO GIVE THE IMPRESSION THAT ROBT. L. EZELL, JR'S BETRAYAL TO MISSISSIPPIANS BEGAN IN FEB. OF THIS YEAR. WE COULD TELL YOU HOW HE HELPED SUPPLY THE LIST, INTICE THE BUSINESS MEN IN THIS STATE WHO SUPPORTED THE INTEGRATING OF OUR ONCE GRAND UNIVERSITY, OLE MISS, BY NEGRO JAMES MERIDITH IN 1962. IN FACT WE COULD WRITE A BOOK ON BIG ROBERT.
WE FEEL WE MUST DIVULGE TO THE PEOPLE, THAT SOME OF "BIG ROBERTS" CLOSE OBSERVERS FEEL THAT HE IS JUST NOT TOO SHARP AND HAS BEEN TAKEN IN BY THE COMMUNIST INSPIRED ELEMENTS, IN FACT A COUPLE OF HIS LIFE LONG ASSOCIATES FEEL THIS IS THE CASE, AT FIRST THEY FELT THAT SOME FACTS WHICH WERE BROUGHT TO THEIR ATTENTION WERE NOT TRUE AND UNFOUNDED, UNTIL SAME WAS PROVED TO THEM. BUT, THE VAST MAJORITY WHO HAVE FOLLOWED HIM CLOSELY FEEL THAT HE COULD NOT BE SO STUPID TO NOT REALIZE AND BELIEVE IN WHAT HE HAS BEEN DOING FOR SO LONG.