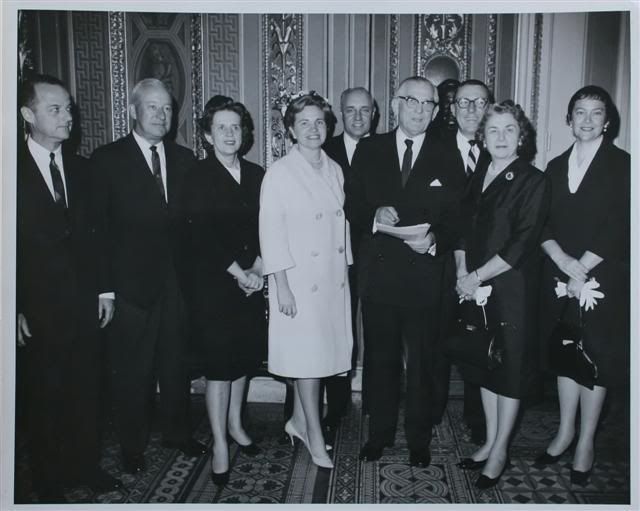 Photo: The standing position in this photo was probably the only time my father was "behind Senator Stennis" when it came to anything regarding Civil Rights. This photo was provided by the Office of John Stennis and it came with the following cutlines:
From The Office of Senator John Stennis
April 30, 1964
For Immediate Release
JACKSON CHAMBER OF COMMERCE DELEGATION MEETS SENATOR JOHN STENNIS during their visit to Washington, D.C. for the annual meeting of the U. S. Chamber of Commerce. Conferring with Senator Stennis in the Senate Visitors' Reception Room, just outside the Senate Chamber where the civil rights debate was in full swing, are (left to right) Chamber General Manager Mendell Davis, Chamber President Clarence Lott, Mrs. Robert Hearin, Mrs. Tom Scott, President-elect Robert Ezelle, Senator Stennis, Tom Scott, Mrs. Clarence Lott, and Mrs. Mendell Davis. Many other Jackson delegates were not present for this picture. Senator Stennis, one of the Southern team captains, had charge of the floor debate on this particular day, and delivered a major speech against the bill.