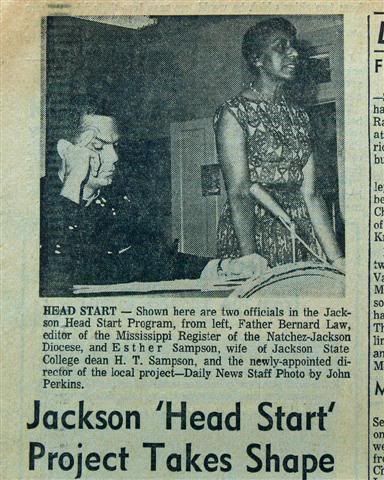 I wish my dad had kept a journal about Head Start. Maybe I'm wrong about this, but my suspicion is that Head Start was the most frustrating project he ever worked on in his long career of civic duty and working to improve race relations in Mississippi. It seems like it was a constant battle with the Jimmy Ward's of this world (see post from October 30th), but also it was a battle with many of the factions who were also fighting for Civil Rights. He must have thought "with friends like this, who needs enemies" and apparently he resigned from working on Head Start in September of 1967, but I'm getting ahead of myself.
Below is an article from the May 26, 1965 issue of the Jackson Daily News newspaper. It is a good starting point in regards to the first group that was trying to bring the Head Start program to Jackson. This article appeared 5 days after the Jimmy Ward editorial and you can see that the people quoted in the article seem to be bending over backwards to say that this is just a program to help kids who truly needed a head start, and it wasn't a program with other objectives in mind. They were walking a middle ground, truly trying to help the kids as was intended by the program, and that's what created the opposition from both sides. (One note of interest, the Father Law in the article is the same Cardinal Law of Boston who made bigger headlines in recent years when the sex scandals about Catholic priest burst on the scene. Also, he is one of the names along with my father who was on the KKK hit list discovered by the FBI.)
Jackson 'Head Start' Project Takes Shape(Printed May 26, 1965 in the Jackson Daily News, Jackson, MS)
Jackson's first campaign in the War on Poverty will see $211,000 poured into nine "poverty pockets" this summer in an effort to boost the cultural and social awareness of 1,200 pre-school age children.
The local "Project Head Start" program is being sponsored by the Bethlehem Center, a Methodist social service center at 920 Blair Street, and a 30-member committee of Negro and white business, civic and church leaders will steer the project. Robert Ezelle, president of the Jackson Chamber of Commerce, is chairman of the steering committee.
Officials say the project is "completely independent" of other anti-poverty programs and in the words of one, "is not affiliated with the Delta Ministry or the National Council of Churches."
At a press conference Tuesday afternoon, officials of the Jackson Head Start program emphasized they were not concerned with social revolution, but to help children from poverty-stricken families "develop social skills and cultural experiences."
The wife of a Jackson State College dean, H. T. Sampson, has been named director of the two-month project. She is Mrs. Esther Sampson, who has been with the State Department of Public Welfare for 21 years and will be on leave from that state agency for the summer program.
She and Father Bernard Law, editor of the Mississippi Register of the Natchez-Jackson Diocese of the Roman Catholic Church, outlined the local Head Start program at the press conference. Although sponsored by Bethlehem Center, which has operated in Jackson for 28 years helping underprivileged children, the Head Start program will not assist the center's program in any way.
The $211,098 budget—with $188,898 from the federal government and the remaining $22,200 provided locally through donated facilities and time—will finance 15 centers scattered throughout the city.
The eight-week program to run from July 5 through August 28, will utilize church buildings, social service facilities and several Catholic schools, Father Law said. There will be about 100 classrooms set up.
He said the staff would include 80 teachers, 130 instructional assistants and over 150 volunteer workers. There will be 250 salaried positions. In addition to Mrs. Sampson, who holds a master's degree in social work, there will be two trained social workers and a full-time nurse. "Each child will be given a physical examination and immunizations," Father Law explained, and added, "University Medical Center, the Hinds County Health Department, the State Board of Health, private physicians and dentists will be utilized. A number of doctors and dentists have volunteered their services.
Mrs. Sampson said the children, ages four and five are those who will start school this fall or in 1966, would be fed simple meals at breakfast, and lunch. The daily schedules would be from 8:30 a.m. until 12:30 p.m., five days a week, she explained.
Father Law said most of the children involved in the summer program would probably be Negro, but he added: "We have pockets of poverty-stricken white people in our area, too, and one or two of the 15 locations will be in predominantly white areas." He said children would be encouraged to attend the center nearest their homes and that automobiles of parents and cars and station wagons of volunteer workers will be utilized for transportation when necessary.
Mrs. Sampson said backers of the program feel it has "something to offer the city" and she said she believed it would "help strengthen the family life" of those children and parents who participate. She said local college students and a number of church women had volunteered to help and that a block-by-block canvas would be conducted to learn which children need help.
Father Law said he had outlined nine poverty areas in Jackson and the immediate metropolitan areas and the 15 centers would be located near these poverty areas. He did not identify any specific areas.
(End of article)